Foto2Avi - Documentation
Please read the small guide. If you have problems, try to see the detailed internal/external guides. If you stil have problems, doubts, try searching our forum or you can contact us by e-mail.
Usage
:
1) Press the 'Settings' button to choose your video settings (input and output)
2) Select your photos or videos that you want to add on you clip.
3) Select the sounds that you want to add on your clip (if any).
4) Press the 'Generate' button in order to preview your result.
5) Press the 'Gear' button to produce your video.
Tips
:
1) I want to add some movie sound at 10th second. I add my sound on the sound list but that starts immediately.
What can i do ?
Foto2Avi Comes bundled with a silence file (60min) you can find it at :
C:\Program Files\Foto2Avi\Sounds\Silence 60min.ogg
Load the silence file first and edit the options Start = 0 Ends = 10000 (10th second)
Now load your external file ;)
2) I loaded the x,y filter and the previewer showed to me CAVISTREAMSYNTH error .
Avisynth has some problems on previewing mode. Let's hope that in the next versions avisynth will correct this problem. Download Foto2Avi 1.5 or later when this message appears just close the preview window and repress the 'Convert' button
3) Why when i seek in the preview window i get my stream MUTED ?
In order to limit as we can the CAVISTREAMSYNTH error (look at the point 2). If you want to listen the sound while seeking just
disable the safe seek
4) I loaded my 8mp digital photos on Foto2Avi and it takes AGES to load the preview window ! Even the convertion is slow as hell ! WHAT CAN I DO ?
Please read the optimization tips
here
and specially read this
small XnView tutorial
5) I must always resize my photos ? They must have the same dimensions ?
No and No. These are optimization tips ! Thats all !
But i
highly reccommend
to resize the photos (the same size is not giving any optimization
at this moment
. In the future it might have some influence)
Remember you are doing video editing !!!
6) Since the preview window gives me a lot of problems is there any other way to preview safely my result before converting?
Use
Foto2Avi 1.5
or newer this problem is
fixed
.
Even if avisynth causes crash the previewer, Foto2Avi does not crash so you can just repress the 'Convert' button and a new previewer will be re-generated for you !
7) I see that the preview has a lot of problems ! I can imagine that the converting is buggy as well !!!
No this is not true ! The convertion is just perfect ! It has to do with avisynth directshow filter (preview mode) that is buggy. I noticed that if the stream is being muted while seeking (secure seek) the preview problems are reduced dramatically . I repeat, in the future versions of avisynth this problem might be solved !!!
8) I have installed Avi2Dvd [0.4.4 or older] and has avisynth 2.5.6 shall i reinstall Foto2Avi's avisynth?
Yes you have to do it ! Foto2Avi generates avisynth 2.5.7 and newer avisynth scripts !
Note : at Avi2Dvd 0.4.5 and later this problem does not exist !
9) Foto2Avi is incompatible with Avi2Dvd.
No it is not .
Avi2Dvd 0.4.5
has the same version of avisynth (2.5.7 and better) and so even the point 8 will dissapear !
If for some reason you want to use older versions of Avi2Dvd than the 0.4.5 then install them and after install Foto2Avi thats all!
10) I am an guru in convertions and i do not like FFmpeg as converter what can i do to convert by myself the result ?
Just go to the point 6 an do the steps a-f then load the Temp.avs on your favolite tool (ex virtualdub mod) and do the convertion from there ! Remember you
can rename
the file Temp.Avs to anything like (MyAvs.avs) but you
cannot move
it from the folder C:\Program Files\Foto2Avi\Avs\
11) My favorite converter supports only avi and not avs what can i do ? I do not want to loose in quality !
Go to the settings->Output on Foto2Avi and check the 'Enable Uncompressed avi' option.
This is an
losseless
operation but it creates an huge avi (1min ~1gb!!!)
Import that huge avi on your favorite converter !
12) I do not get any preview. (Black preview window).
Make sure you have installed Avisynth that comes with the Foto2Avi installer.
Download the latest 32 bit version of ffdshow from
freecodecs
.
After installing it go to Start > All Programs > ffdshow > Video decoder configuration > Codecs and set like the photo below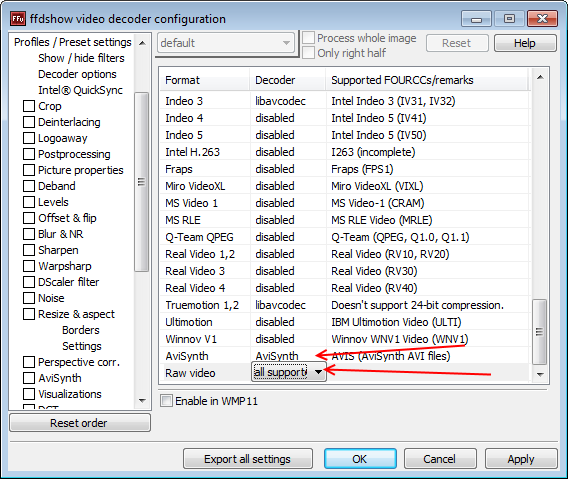 Notice that you can enable other video formats too from the same window.
Do the same procedure for the audio codecs .
Go to Start > All Programs > ffdshow > Audio decoder configuration > Codecs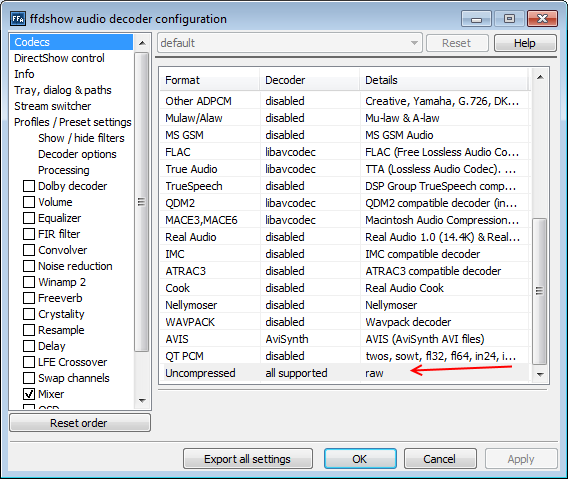 13) I have audio/video synch problems.
Enable the "Convert FPS" feature added on the 4.3+ Foto2Avi version
External Guides :
Softpedia presentation
nirmaltv mini tutorial
Italian tutorial
Portugese tutorial
German tutorial
Video tutorials :
Japanese video tutorial