Latest Version : 42.11 (Freeware)

About : Txt2Sup is a portable application that converts with one click a SRT / TXT,SUB (MicroDVD) subtitle into a SUP file.
Txt2Sup produces SUP files that, can be used with IfoEdit (www.ifoedit.com) in order to add extra subtitles in a DVD by using the method of re-author.
The quality of the produced subtitles (SUP) is extremely good.
From the version 42.11 is Windows XP, Vista, 7, 8 and Linux compatible.

Why and when you need to use this tool : When you want to add an external textual subtitle on a DVD. This method does not need re-enconding. You just have to re-author your dvd by using IfoEdit. More details about how to use Txt2Sup can be found at the dedicated online documentation page.
Also take a look at the Extended Intenal Guides :
Add Subs To DvD With Menus With Eventual Transcode Guide and Add Subs To DvD Without Menus With Eventual Transcode Guide .
The official download page is located here.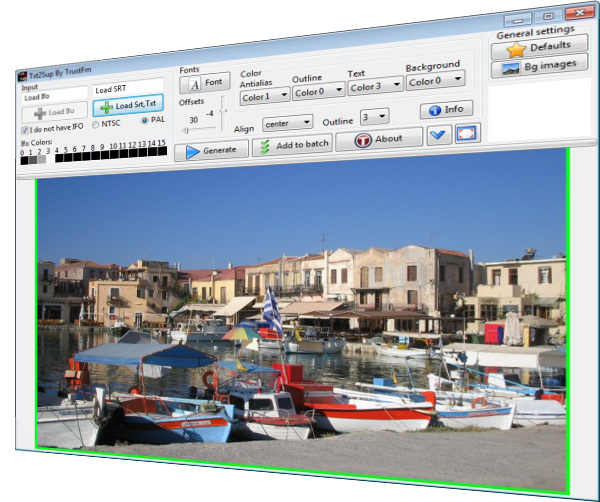 Pad file for updates can be found here :
http://www.trustfm.net/divx/Downloads/txt2sup.xml

ChangeLog :


What's new in ver.42.11 :
Info : major upodate. Some parts are completely rewritten.
Updated : compiler [ported to CodeTyphon]
New : Linux version
Added : unicode support for srt and MicroDVD subtitles
Updated : links algorithm
Updated : cleaner interface
Fixed : This version does not disable the antialising of your system fonts (more portable friendly version)
Fixed : more performing algorithm

What's new in ver.42.10 :
New : Bug - Fixed version
Updated : About box links
Updated : Check version
Fixed : Contact links

What's new in ver.42.9 :
Fixed : Command line pal option not worked properly

What's new in ver.42.8 :
Fixed : More accurate timestamps
Added : Better check control of Srt
Added : The tags (<i>,<u>,<b>) are now ignored.
Added : More font sizes
Added : Output filenames have the same srt name
Added : Disable buttons when converting
Added : Abort option
Added : Batch Mode
Added : Command line support
Added : Small tutorial using batch mode. Check our 'How to Use' section
Updated : Better interface
Updated : Filename of the help file
Updated : About Box

What's new in ver.42.7 :
Fixed : Faster Version
Added : Vietnamese support

What's new in ver.42.6 :
Updated : Sup generation engine
Added : Txt2Sup is 50% faster !

What's new in ver.42.5 :
Added : Left - Center - Right Horizontal Alignment
Fixed : Borders limits (compatible with GUI for dvdauthor)

What's new in ver.42.4 :
Added : Vista support
Added : Update function

What's new in ver.42.3 :
Added : More FontSize values support
Added : Saves the configuration values.
Added : You can change the preview image.
Added : Restore of the default values.

What's new in ver.42.2 :
Added : You can choose the outline width. Before had a static value=3.
Added : You can see the value of the top offset.
Added : You can see the value of the gap between two lines.
Fixed : Errors in interface. (All the comboboxes are read only).

What's new in ver.42.1 :
Fixed : When you processed some srt an error like this appeared : '2330,00000000001' is not a valid integer value.

What's new in ver.42.0 hta :
Fixed : Ifo parsing.

What's new in ver.42.0 zita :
a) You can generate a sup without any ifo. Txt2Sup will generate an text help file in order to modify manually your authored VTS_01_0.IFO by using ifoedit.
b) Txt2Sup now detects monochrome ifo pallettes. These kind of ifos usually didnt contained originally any sup that's why they have a default monochrome pallette. In this case Txt2Sup generates a new polychrome pallette and genrates the sup.
c) Txt2Sup in any case (polychrome ifo, monochrome ifo , no ifo at all) generates a help file with the steps that you should do on ifoedit for each case in order to get a DVD with subtitles.

What's new in ver.42.0 epsilon :
You can choose font styles like bold,italics,underlined and their combinations (ex bold+italics).
Fixed : string length control not only on load of the srt but on change (size,font) also.

What's new in ver.42.0 delta :
You can choose the distance of the two lines , SRT with coordinates supported.

What's new in ver.42.0 gamma :
Some bug fixed that used to crash ifoedit.


Special Thanks to Erik Vullings.