Screen2Avi - Official page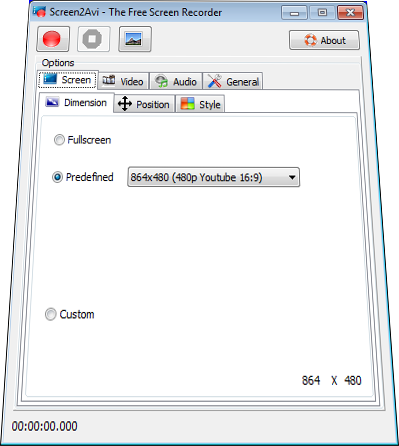 Latest Version
: 1.1
About :
Screen2Avi is a free screen capturer capable to produce screencasts and screenshots from your desktop.
Comes with two flavours installable and portable. Produces excellent quality captured screencasts with no effort at all.
Screen2Avi can generate avi files editable with
Foto2Avi
.
Before
downloading
take a look at the online documentation
page
.
A detailed feature list can be found at the dedicated
page
For further support use our
forums
.
ChangeLog :
What's new in ver.1.1 :
Added : Coursor process priority (idle,normal,high,real time)
Fixed : Coursor flickering
Fixed : White cursor effect
Fixed : Hookcursor launch method
Fixed : The transparency capture method (elimination of flickering)
Fixed : Frozen screen frame
Updated : More intuitive Tray menu
Updated : options panel
Updated : Improved GUI (more image buttons)
Updated : Screen2AviCapturer.exe
Updated : HookCursor.exe
Fixed : Installer (Broken tutorial url)

What's new in ver.1.0 :
First public release...
Pad file
for updates can be found here :
http://repository.appvisor.com/info/app-7c00940feb49/Screen2Avi_pad.xml