Txt2Vobsub - Official page
Latest Version
: 4.3 ( Freeware )
About
:
Txt2VobSub generates vobsubs[IDX/SUB] subtitles from SRT or TXT subtitles. It is a useful subtitle converter tool.
The quality of the subtitles is superb. You can select custom colors and position for your subtitles.
Txt2Vobsub works under
Windows
XP, Vista, 7, 8, 10 and under
Linux
.
Comes into
32 and 64 bit
versions.
Notice that Txt2Vobsub is a
portable standalone
application.
It can be used in order to watch on your standalone divx player subtitled movies. Your divx player must be vobsub [IDX/SUB] compatible. Before
downloading
Txt2Vobsub take a look at the
features
page and at the official
online documentation
.
If you want to create multi-language vobsubs then just create the IDX/SUB individually and then mux them using
VobsubMuxer
.
Why and when you need to use this tool
:
Small explanation guide
here
(Read the Guide :
Add Subs To Avi for Standalone DivX Players
). Txt2Vobsub can be used in order to add subtitles on
portable devices
.
Compatible Hardware Players :
-
Here
you can see some dvd devices that support Txt2Vobsub. You can find opinions directly from our users.
-
Here
is a non official list that tells which devices actually support divx with vobsub subtitles.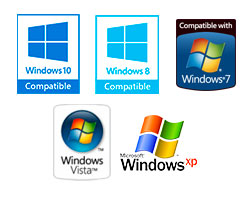 Compatible Software Players :
-MPC-HC, PotPlayer, VLC
-All of directshow based players like : Arpa kolla player/media player classic/Bsplayer etc... You only need the vobsub filter. Get it for free from
here
Pad file
for updates can be found here :
http://repository.appvisor.com/info/app-3800d09e02ac/Txt2Vobsub_pad.xml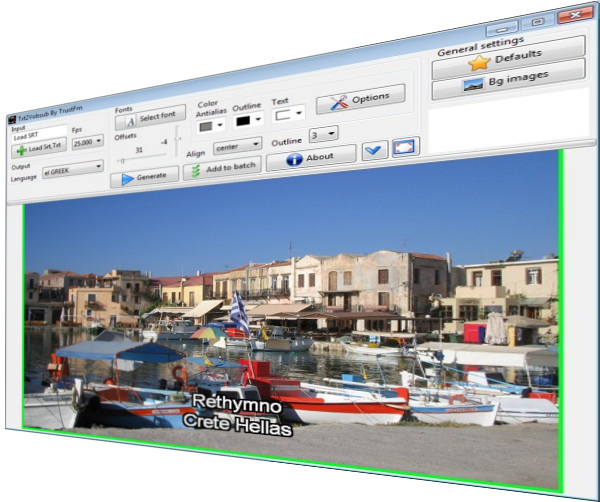 Awards :
ChangeLog :
What's new in ver.4.3:
New: 64 bit versions for Windows and Linux
Added: 64 bit support
Updated: Settings file name
Updated: Links at about box
Updated: GUI

What's new in ver.4.2:
Fixed : Correct support for MicroDVD subtitles
Added : Unicode support for MicroDVD subtitles
Updated : parser for srt / txt

What's new in ver.4.1:
Fixed : Timestamps
Fixed : Size control of the subtitles
Fixed : Subtitle on load bug

What's new in ver.4.0:
Note : major update
Note : Some parts are completely rewritten.
New : New compiler is used [ported to CodeTyphon]
New : Linux version
Added : Unicode support
Updated : links algorithm
Updated : cleaner interface
Fixed : This version does not disable the antialising of your system fonts (more portable friendly version)
Fixed : more performing algorithm


What's new in ver.3.5:
Fixed indonesian hebrew and malay languages
Updated About box
Updated : Check new version
Fixed : GUI bugs
Fixed : PayPal donate link

What's new in ver.3.4:
Fixed : Batch Mode under Windows Vista (wrong color transparency)

What's new in ver.3.3:
Added : Batch Mode
Added : Command line support
Added : Better check control of Srt
Added : Small tutorial using batch mode. Check our 'How to Use' section
Fixed : Fps Combobox
Fixed : More accurate timestamps
Updated : Generated Help file
Update : About Box

What's new in ver.3.2:
Added : Abort option
Added : Output filenames have the same srt name
Added : More font sizes
Added : Disable buttons when converting
Fixed : Save color options
Fixed : Changing the fps you get wrong timestamps when srt is loaded
Fixed : Corrected subtitle load check

What's new in ver.3.1:
Added : Vietnamese support

What's new in ver.3.0:
Added : Internal vobsub engine [Txt2Sup engine]
Added : Better quality of the subtitles
Added : Now Txt2Vobsub should work under linux with the help of Wine
Added : Left - Center - Right Horizontal Alignment
Fixed : Color problems [problems with son2vobsub]
Fixed : Borders limits
Updated : Son2vobsub is not used anymore.

What's new in ver.2.9:
Fixed : Command line error with Son2Vobsub

What's new in ver.2.8:
Internal debug version

What's new in ver.2.7:
Added : Windows Vista Ready.
Added : Updater function added.

What's new in ver.2.6:
Added : Windows Vista Support

What's new in ver.2.5 :
Added : Color selection
Added : Support for standalone dvd players that support idx/sub
Added : Select the target of your vobsub (pc or standalone dvd support)
Added : Safe colors option (YCRCB,RGB palette) no ifo needed for dvd reproduction of the subtitles!
Added : Four methods fo generating your vobsub
Added : Relative positions of the vobsubs
Added : Smaller size vobsubs
Upgrated : son2vobsub mod 1.03 added
Upgrated : 8bit color palette
Fixed : Time synch error for the generated vobsub
Fixed : Colors of the bitmaps
Fixed : Bug of the fps
Fixed : Bug with the vobsub language onload.

What's new in ver.1.9 :
Added : The subtitles with tags (<i>,<u>,<b>) are now processed without the output of the tag on the screen.
Fixed : Bug with wrong output colors
Fixed : Visible background color

What's new in ver.1.8 :
Fixed : Bug driving son2vobsub on some pcs

What's new in ver.1.7 :
Added : More FontSize values support
Added : Saves the configuration values.
Added : You can change the preview image.
Added : Restore of the default values.
Added : You can choose the outline width. Before had a static value=3.
Added : You can see the value of the top offset.
Added : You can see the value of the gap between two lines.
Fixed : Errors in interface. (All the comboboxes are read only).

What's new in ver.1.6 beta :
Fixed : Son2VobSub finish detection.


What's new in ver.1.5 beta :
First public release...