WiFi2Hotspot - Documentation
Installation
Unzip the zip file into your favorite location or run the exe and unpack WiFi2Hotspot into your desired destination folder.
In both cases (ZIP/EXE) notice that WiFi2Hotspot is a portable application.
Usage:
Setup section :
First time that you run WiFi2Hotspot you have to
setup
the program .
The first setup step is to give a SSID and a password.
The password must have at least 8 characters. Now you can hit the "Create virtual WiFi" button.

As second setup step you should hit the "Network Sharing Center -> Change adapter settings" link.
In the new window you should see a new connection that has "Microsoft Virtual WiFi adapter" written underneath it. Memorize the name of that connection .
Example : "Wireless Network Connection 2" like the picture below

The third and last setup step is to right click your local connection.
Click on "Properties" and then go the the "Sharing" tab.
You must click on the drop down menu and select your Virtual WiFi before clicking on the top check box otherwise the drop down menu becomes uneditable.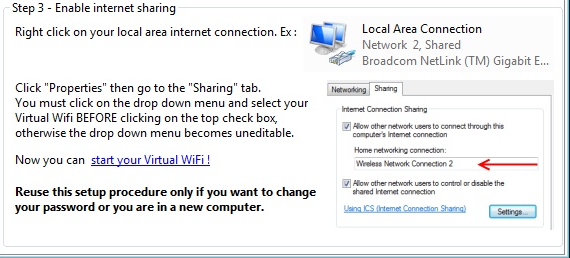 Notice that the setup procedure is needed only the first time you setup WiFi2Hotspot on your machine.
Reuse this procedure in order to change SSID and/or password for your Virtual WiFi Router.
Start / Stop section :
Simply use the Start button in order to start your Virtual Router.
In the "User account control" pop up window hit the "Yes" button.
In order to stop your virtual router hit the stop button.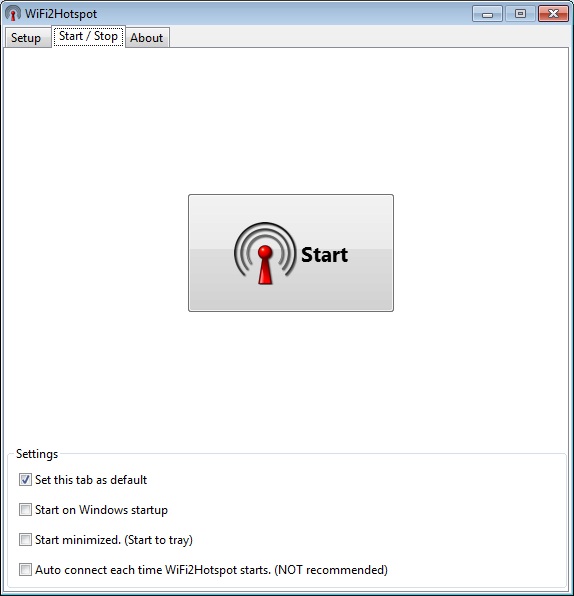 Options :
Set this tab as default : This is useful once you have correctly setup the program.
Start on windows start up (not portable option).
Start minimized (Start to tray). : Enable this option if you like.
Autoconnect each time WiFi2Hotspot (This option is not recommended).
Under Windows 8 or 10 if you have problems
Go to :
start -> control panel -> device manager -> view -> show hidden devices -> network adapters
Find the "microsoft hosted virtual network" right click enable.
Video demonstration :
Special thanks to :
Free Pascal
Lazarus
CodeTyphon
David Vignoni - Nuvola
Everaldo Coelho - Crystal clear