Font2OpenSCAD - Official page
Latest Version
: 1.1
About :
Font2OpenSCAD helps you writing multilanguage letters directly in OpenSCAD.
This utility allows you to create automatically DXF files from TTF fonts.
Examples of how to use the generated fonts are also provided.
Using Font2OpenSCAD you can write multilanguage since you can "transform" the English alphabet into another one.
Before
downloading
Font2OpenSCAD take a look at the online
documentation
.
Font2OpenSCAD works under Windows 8, Windows 7, Windows Vista & Windows XP.
Use our
forums
for support.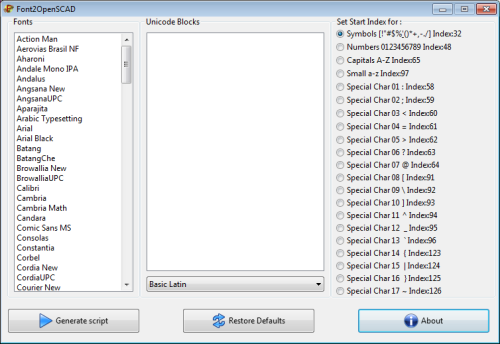 Changelog :
Version 1.1 First public release.
Pad file
for updates can be found here :
http://www.trustfm.net/software/utilities/Downloads/Font2OpenSCAD.xml