WiFi2Hotspot - Official page
Latest Version
: 1.1
About :
WiFi2Hotspot creates a WiFi hotspot and turn your laptop into a WiFi router.
Is a free and easy to use virtual router creator for
Windows 7, 8, 8.1 and 10
computers.
The user can wirelessly share any Internet connection like : a DSL modem, a cable router, or even another Wi-Fi network.
Other Wi-Fi enabled devices including laptops, smart-phones, mp3 players, and gaming consoles can see and join your Wi-Fi hotspot just like any other Wi-Fi access point.
WiFi2Hotspot is a small
portable
application without any secret installers.
Your generated hotspot is WPA2-PSK encrypted.
Before
downloading
WiFi2Hotspot take a look at the online
documentation
.
Please notice that WiFi2Hotspot only works under Windows 7, Windows 8 or newer WinOs systems.
Use our
forums
for support.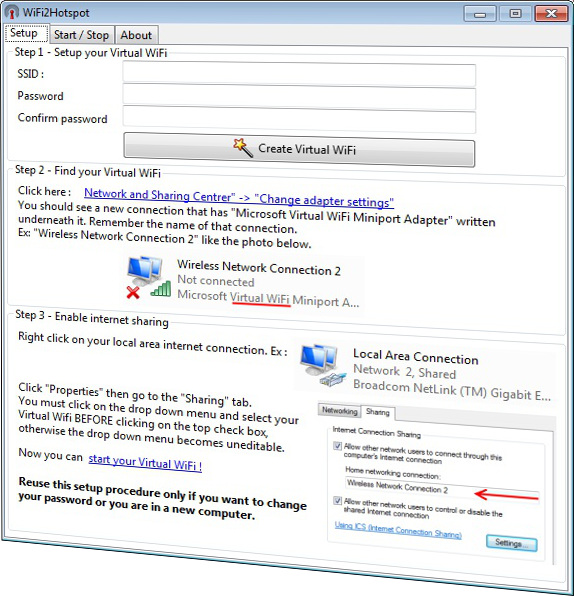 Changelog :
Version 1.1 :
Fixed start on Windows 8 and Windows 10
More compatible version for Windows 10

Version 1.0 :
First public release.
Pad file
for updates can be found here :
http://repository.appvisor.com/info/app-98008d34e8c2/WiFi2Hotspot_pad.xml