Contact Contacts - Official Page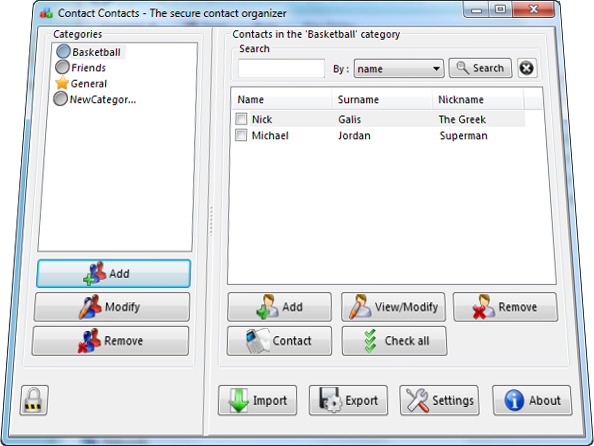 Latest Version
: 1.1
About :
Contact Contacts is a free secure organizer that supports bulk emails and SMS.
All data is stored securely into an encrypted database.
The program sensitive settings are also encrypted.
You can easily create categories (groups of contacts), search, import/export contacts, send bulk SMS and emails.
Contact Contacts is completely
portable
.
Before
downloading
take a look at the online tutorial
page
.
It only takes a while in order to use properly Contact Contacts but please spend some time reading the online documentation for better results.
The detailed program capabilities can be found at the features
page
As always use our
forums
for support.
Important security notice
. Contact Contacts 1.0 used a compromised OpenSSL version by the
heartbleed
bug.
Even though that OpenSSL was vurnerable SQLCipher
did not
called those compromised functions.
Read more about this directly from
SQLCipher blog
.
Since SQLCipher is secure Contact Contacts is secure too.
Infact
here
you can find the analysis of Contact Contacts ver 1.0.
For
extra security reasons
we have recompiled SQLCipher using the OpenSSL 1.0.1.g version which is not vulnerable by the
heartbleed
bug.
Here
you can find the analysis of Contact Contacts ver 1.1.
In order to update your Contact Contacts please read the documentation section 10.
Another important notice
is that from now on you can use
CSVpad
in order to modify your extracted CSV contacts.
Changelog :
Whats new in version 1.1 :
Updated : new compiler used [Codetyphon]
Updated : new OpenSSL used [1.0.1.g]
Updated : new version of sqlcipher [3.8.0.2]
Added Unicode support for email "subject"
Added Unicode support for email "from"
Added : Unicode support for SMS
Fix : Export function fixed
Fixed charset bug
Notice : Contact Contact 1.0 and 1.1 where not vulnerable at the Heartbleed bug.
For extra security reasons we recompiled SQLCipher using the latest bug-fixed OpenSSL library ver 1.0.1.g

Whats new in version 1.0 :
Added : First public release



Pad file
for updates can be found here :
http://www.trustfm.net/GeneralTools/Downloads/ContactContacts.xml