DMM Data Logger - Official page
Latest Version
: 1.1
About :
DMM Data Logger is a digital multimeter datalogger for Mastech MS8229 and for Voltcraft VC-820 (untested).
The Mastech MS8229 needs a hardware hack explained step by step at
hw2sw.com
.
DMM Data Logger supports all the LCD display commands such as "HOLD" and "RELATIVE". Plots real time graph that can be saved as bitmap.
All the data is beeing outputed as a
CSV
file which can be later used by Excel - Open/Libre Office.
Before
downloading
this data logger take a look at the online
documentation
.
DMM Data Logger works under Windows (8/7/Vista/XP) & Linux.
As always use our
forums
for support.
Video presentation :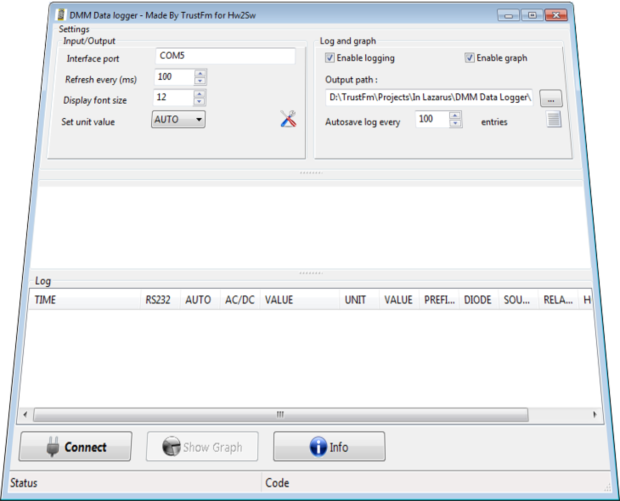 Changelog :
Version 1.1 Bug free version
Voltcraft VC-820 is tested and supported.
Fixed : serial communication [Christian Mauderer]

Version 1.0 First public release.
Pad file
for updates can be found here :
http://www.trustfm.net/GeneralTools/Downloads/DMMDataLogger.xml