WAN IP Logger - Official page
Latest Version : 1.1

About : WAN IP Logger is a free portable utility that checks and stores in a file your WAN IP.
The Wide Area Network IP is your "extenal" IP.
By knowing your WAN IP you can communicate from any other place of the world with your computer.
WAN IP Logger is a crossplatform desktop application.
Right now WAN IP Logger is compiled for Windows and Linux.
Before downloading WAN IP Logger take a look at at the online documentation.



Pad file :
http://www.trustfm.net/GeneralTools/Downloads/WanIpLogger.xml

Changelog :


Version 1.1
Added : 24hour time format
Added : Logging from 1 to 99999 seconds
Updated : Newer indy library
Updated : About Box
Fix : Windows Vista and Windows 7 compatible version
Fixed : Better parser
Fix : findmyipaddress is correct
Fix : Win icon fixed

Version 1.0 First official and public release.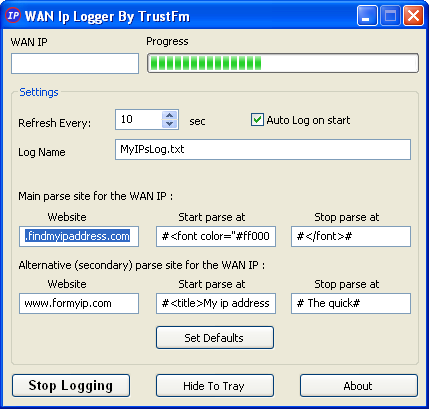 Copyright © TrustFm.net 1998-2014 - Made by
TrustFm
- All Rights Reserved Worldwide