Mini - Itx Motherboard Solutions
[form factor size 12x12 cm]
Today there are few motherboards for Mini-ITX in the market. Although the last few months has been released some solutions which support Intel Pentium M and Celeron M CPUs. One really good is DFI G5M100-N Pentium M Mini-ITX motherboard.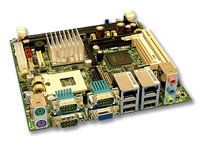 This 17x17cm motherboard can handle Pentium M and Celeron M processors [Attention with 479-pins and 400 fsb max!] which can be found
here
. Also be careful with the Mini-ITX case. Most cases are designed for 60W systems. If you are going to use a Celeron M then you are on the limit. But for a Pentium M system it is recommended you buy a 90W HTPC case. We found for you a good one. Click
here
.
Specifications :
- Chipset: Intel 855GME + 82801DB
- Dual LAN embedded
- 3x Serial Ports
- 4x Usb 2.0 Ports
- RAM: up to 2GB DDR SDRAM in two sockets [fully tested DIMMs are available
here
]
- Sound card: Realtek ALC202A 18-bit stereo audio
- Graphics: Integrated Intel 855GME 2D and 3D accelerated graphics
Learn more about Mini-ITX
here
.
Recommended HTPC case : click
here