Avi2Dvd Documentation
Please read the small guide. If you have problems, try to see the detailed internal/external guides. If you stil have problems, doubts, try searching our forum or you can contact us by e-mail.
Usage :
1) Just load your avi/mkv/ogm (avi mode) or load ifo (DVD mode).
2) Choose your Audiostream.
3) Press Step2 and choose your output type (DVD/SVCD/VCD).
4) Press Step3 and pick your favorite encoder (Quenc / FreeEnc / NuEnc / HCEnc / CCE 2.6.7 if you own it !!!).
5) Press Step4 and load your Textual Subtitle.
6) Press Add job and then GO !!!
7) Burn the generated image. (ex with
imgburn
)
Windows Vista Compatibility :
1. Install Avi2Dvd normally.
2. Create an desktop shortcut.
3. Rightclick the Avi2dvd shortcut(1) and select properties(2) like the picture above: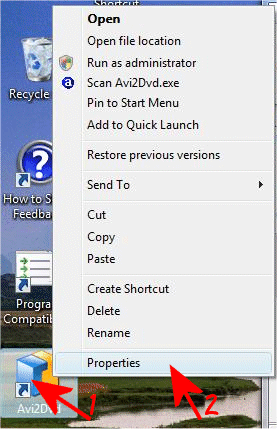 4. Click on compatibility tab(1) and select Run this program as an administrator(2).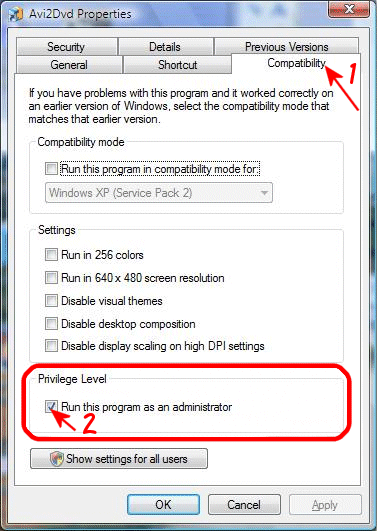 5. Now run normally Avi2Dvd . You are done !
Tips :
1) In DVD mode (dvd input) you must rip your dvd with
dvddecrypter
in IFO MODE.
2) In AVI mode if you have an avi/mkv/ogm [not wmv] with parts cd1, cd2, cd3... you can load as unique avi renaming the avis like this :
Matrix CD1.avi
Matrix CD2.avi
Matrix CD3.avi
etc...
Now just load the Matrix CD1.avi
Renaming your files like this, avi2dvd will join these avis automatically and will produce an unique film. This tip is valid also for ogm/mkv.
3) Like the tip 2) if you have an srt/txt with two or more parts and want to join them then just rename them like this:
Matrix English Cd1.srt
Matrix English Cd2.srt
Matrix English Cd3.srt
etc...
Just load the Matrix English Cd1.srt
Avi2Dvd will join these srt.
Extended Guides :
Internal Guides
External Guides :
01.
How to convert AVI files (DivX, XviD etc.) to DVD with Avi2DVD by afterdawn (English)
02.
Avi2Dvd Guide (English)
03.
Avi2Dvd Guide (Italian)
04.
Avi2Dvd Mini Guide (Italian)
05.
Avi2Dvd Extended guide by divx-digest (English)
06.
Avi2Dvd Extended guide by netzwelt.de (German)
07.
From department of computer science and information engineering National chi Nan University Nantou Taiwan 545
08.
Romanian tutorial
Video tutorials :