(D) FILE PREPARATION.
Put your avi/ogm/mkv and your subtitles on a
simple path
(without strange characters) like c:\movie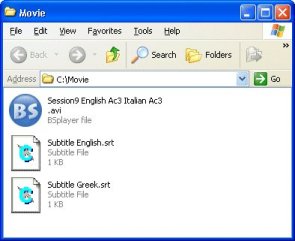 If you have an film with two parts then rename them like this for example :
Matrix CD1.avi
Matrix CD2.avi
and for the subtitles do the same like this :
Matrix English CD1.srt
,
Matrix Greek CD1.srt
Matrix English CD2.srt
,
Matrix Greek CD2.srt
The CD1, CD2, CD3 etc ... part it is important !!!
Our trial video file has these charateristics :
Video : avi
Audio : Two ac3 audiostreams (En, It)
Subs : Two subtitles (En, Gr)
Duration : 63 seconds
(E) AVI2DVD GUIDE.
Step1 [Select your source file]
Press Load Avi/Ogm/Mkv [Note : Avi mode selected]