Watching *.divx on PC...
1 method)
The best way to watch *.divx on pc is to use an directshow based player like :
Media Player Classic HC
bsplayer
AND
the latest
divx codec 6.4.1
(free download)
By using this method wou need to load the *.divx on the player and then right-click on the divx logo(1) then click on the subtitle(2) then on off(3) and then select the subtitle again.(4).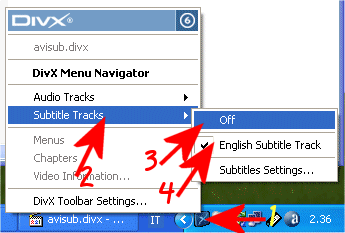 2 method)
You can use the official
divx player
Just drag and drop the divx and then with right-click select subtitle tracks->English ...
Watching on standalone DVD ...
If your dvd player can reproduce xsub files (is
DivX Certified
) then you just have to load your DVD with the film and press the subtitle button on your remote control . If for some reason the subtitles does not appear to put on avisub horizontal offset 100-120. The subtitles might be too low (off screen).
c) Txt2Vobsub method.