VIA CPUS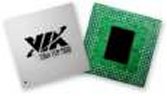 Via cpus use the old socket PGA 370 which supported the old P III. Today there are two series of Via processors. Those with Eden core nd these with Nehemiah core.
Via made a new form factor, ini itx and nano itx, specially for small Pcs with low power consumption. The basic thought was to build portable or car pcs. For example Nehemiah core consumes 5.0 - 5.3 watts in the stand by mode and 15.0 - 18.4 Watts max. In comparison a Tualatin Celeron cpu at 1.0 Ghz consumes almost 28W and a Duron with Morgan core 45W. It is a really cool cpu.
If you are interested to buy a mini itx system with a Via processor notice that chips with Eden core are fanless but they can't do much in winXP. Eden core is not recommended for mp3 encoding and it needs a dvd decoder embedded on the motherboard [which usually is] to play DVDs. The problem here is that if you want to play a movie with a different format this cpu may not support it. Also some people says that they had almost 100% cpu utilization when they played mp3s under winXP with an 600Mhz Eden core chip.
Nehemiah core is much better from Eden. It doesn't have any problems with mp3 decoding under winXP or playing DVDs. Although if the motherboard has embedded the VIA Unichrome Pro decoder Nehemiah can handle Divx movies. But be careful other formats may not work!