GRBLDroidBT - Official page
Latest Version
: 2.5
About :
GRBLDroidBT is a CNC Controller for Android(4.0+) tablets.
Using a Bluetooth Android tablet you can pilot your grbl CNC machine wirelessly.
GRBL is the most common firmware used in the open source community for CNC machines.
Shapeoko CNC machines for example are using Grbl as firmware.
With GRBLDroidBT you can send commands, jog the CNC machine and send g-code files using two methods simple and advanced.
Notice that GRBLDroidBT costs
17 Euros
and you can get it from Google store.
Before
downloading
GRBLDroidBT please take a look at the online
documentation
.
You have to use the
HC-05 Bluetooth module
as receiver so please read the documentation carefully.
GRBLDroidBT works under Android 4.0+.
Please use our
forums
for support.
Video presentation :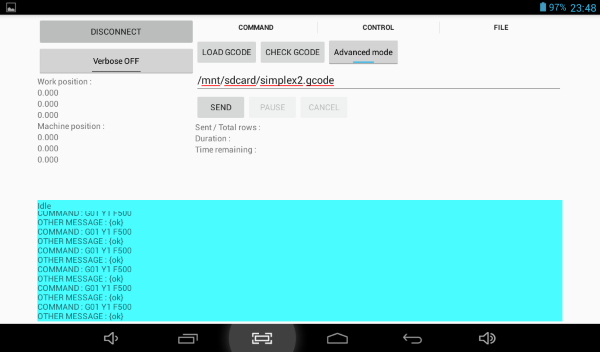 Changelog :
Version 2.5 Added : Android 6.0 permissions

Version 2.3 Fixed : Folder permissions

Version 2.0 Added : Bluetooth communication

Version 1.2 Much cleaner interface
Fixed : Some visual bugs
Updated : GUI interface. Bigger buttons

Version 1.0 First public release.