Step4 [Select your subtitles]
Press on Step 4 .
DVD CASE
: On this case we can put up to three selectable subtitles srt.
Load the first subtitle by clicking on 'subtitle 1' , then select 'character set' and then select the 'subtitle language'.
Ex :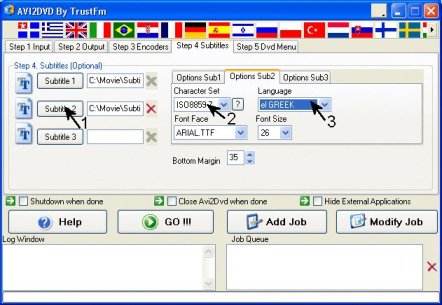 For each subtitle of the dvd do the same .
Notice that you must select correctly the character set option. If you do not know what to choose just click on the '?' button to inform which is the correct character set for your subtitle.
If you put some wrong value on 'character set' the subtitles may be not readable on the output dvd/svcd.
SVCD/VCD CASE
: On this case we can put one permanent subtitle on our svcd/vcd. We click on 'subtitle 1' in order to load the subtitle, and then we select the 'font script'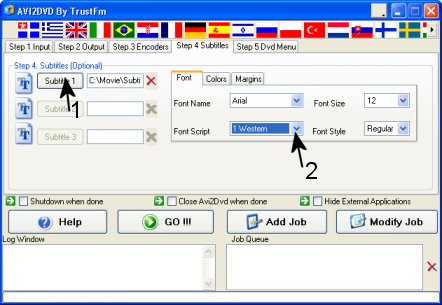 If you want a DVD without menu or an svcd/vcd then just press 'Add job' and then press 'GO !!!' [Do not read the step 5 go directly to step 6].