Add Subs To DVD Without Menus With Eventual Transcode Guide ver.2
(A) PROLOGUE.
In this guide we will show you the way to add an extra subtitle on a dvd without menu and extras.
(B) PROGRAMS.
(C) INSTALLATION.
First of all you must have
win 2000/XP with NTFS support and 20 gb free space on your hard disk.
In order to convert your hard disk from FAT32 to NTFS press start (bottom left) - all programs - accessories - command prompt - and write for ex:
convert e: /FS:NTFS
where "e" is the drive that we must convert. The convertion will take few seconds. Then ...
We run the arpa kolla player.exe. Press options - filters - Register/Unregister we check all and we press register selected filters.
After that we install the Ifoedit-tools.exe.
(D) ADDING SUBS ON A DVD GUIDE.
Step 1. RIPPING/DEMUXING m2v,ac3,sub
.
We create these folders (For simplicity they are on Ifoedit-tools):
e:\finalmovie
e:\finalmovie\authored
e:\finalmovie\AUDIO_TS *Attention AUDIO_TS with capital letters.
e:\finalmovie\VIDEO_TS *Attention VIDEO_TS with capital letters.
e:\initialmovie
We run dvddecrypter we press MODE and select IFO.
Press tools,settings,ifo mode and do like the picture above: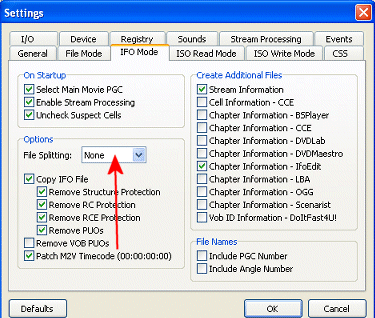 then we press ok.