Micro ATX Htpc cases
I) Ahanix (MCE301) (MCE301SA) Micro ATX Desktop Case

cost: about 185
$
Technical features
Motherboard Form Factor: Micro ATX
Power Provided: 350 Watt.
Power Type: Power Supply
Color: Silver
Dimensions:
- Width: 17 in.
- Depth: 16.13 in.
- Height: 4.13 in.
Weight: 12 lb.
This case can be found
here
.
II) Antec Aria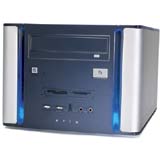 cost: about 100 e
Features:
Recommended for use with Intel "Northwood" P4, Intel Pentium "M" and all AMD CPUs.
Accepts motherboards up to MicroATX (24,4 x 24,4 cm) and 4 full-height PCI expansion cards 300 Watt power supply with universal input delivers quiet, stable power
- 120mm fan ensures nearly silent operation
- Active PFC provides environmentally-friendlier power
- Universal input allows Aria to automatically accept line voltages from 100V to 240V AC
Fan Specs:
- RPM: 1200
- CFM: 38.94
- dB(A): 25
Four drive bays provide convenient expandability
- 1 external 5.25"
- 3 internal 3.5"
- Flip-up drive cage allows easy installation
- 3.5" mounts include thermal tape for improved heat dispersion
Front-mounted ports and 8-in-1 card reader deliver maximum flexibility
- Card reader accepts all popular formats: CF I/II, MS, MS Pro, SM, SD, MMC, MicroDrive
- Ports: 2x USB 2.0, 2x audio, 1x IEEE 1394 (FireWire, i.Link)
Remarkably quiet cooling with low speed 120mm fan and Cyclone Blower
Includes rounded Cobra IDE cable
Low profile, small form factor allows Aria to fit almost anywhere. Measures: 20 (H) x 26,9 (W) x 33,5 (D) cm
7.9"(H) x 10.6"(W) x 13.2"(D)
Weighs: 4.6 kg (10 lbs.)
Antec site. Click
here
.
III) Aspire LAN Party X-Qpack Case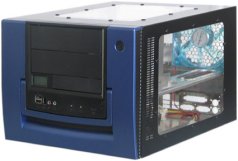 Internet Website:
aspireusa.net
Price: $80-$90
Form factor: Mini PC case
Weight: 9.9 lbs / 4.5 kg
Dimensions: (in / mm) 11.02" x 21.85" x 8.86" 280 x 555 x 225 mm
Case lock: none
Material: Aluminum / plastic
Magnetized: no
Opens using thumbscrews
Case sensor (OPEN): no
compatible motherboards: Micro ATX, Baby-AT
Motherboard on a tray: yes
Side panels: 3 transparent windows
Display: yes
Fan controller: none
Drive bays:
- 2 x 5.25"
- 1 x 3.5" (external)
- 2 x 3.5" (internal)
HD drive cage: yes
90 degree cage rotation: no
Slide-in drive rails: none
Expansion card slots: 4 x
Front connectors:
- USB2.0: 2 x Type A
- Firewire 1394a: 1 x 6-pin
System fans:
- Mount points/cages for built-in
- pre-installed 1 x 120 mm
- Fan speed cable: none
- Dust filter yes
Hard disk fans:
- Mount points/cages for no
- pre-installed none
- Fan speed cable none
- Dust filter no
Additional items included
- Screws yes
- Stand-offs yes
- Miscellany 420 Watt PSU
More Mini ATX Htpc cases can be found
here
or
here
.