Vobsub Muxer - Official page
Latest Version
: 2.0 (Freeware)
About
: VobsubMuxer can mux more than one video subtitle languages into one single vobsub file (IDX/SUB).
VobsubMuxer is a portable application that runs on Windows XP , Vista, 7, 8 and Linux.
The Vobsub files can be extracted from a DVD and can contain up to 32 subtitle language streams.
So if you rip a DVD on your computer, the extracted IDX/SUB package may contain more than one languages in one vobsub file [IDX/SUB]. This is a really good solution if you want to watch your film (test.avi) with all the supported languages that where on that specific DVD ( using the test.idx and test.sub files).

This feature is not possible instead if you have multiple language srt/txt files. Txt2Vobsub generates IDX/SUB files for only one language at a time.
So you have to mux them using VobsubMuxer in order to get only one package that contains all the languages.

Another use of VobsubMuxer is when you already have an extracted IDX/SUB file but it does not contain a certain language and you simply want to add it on that package.
Using Txt2Vobsub you can convert the extra srt/txt subtitle file to a vobsub file with one language.
Now, VobsubMuxer can mux these two packages (one multilanguage - one single language) into one single multilanguage IDX/SUB package.

For more tips and tricks please look at the features section and at the official online documentation section. Now you are ready to download VobsubMuxer.

Compatible Hardware Players :
-Here you can see some DVD devices that support VobsubMuxer. You can find opinions directly from our users.
Please note that not all the players that are capable to play multiple vobsubs even when then can play single vobsubs. So it is possible to find a player that it is Txt2Vobsub compatible but not compatible with VobsubMuxer.

Compatible Software Players :
-All of directshow based players like : Arpa kolla player/media player classic/Bsplayer etc... You only need the vobsub filter. Get it for free from here

Pad file for updates can be found here :
http://repository.appvisor.com/info/app-4200601c7458/VobsubMuxer_pad.xml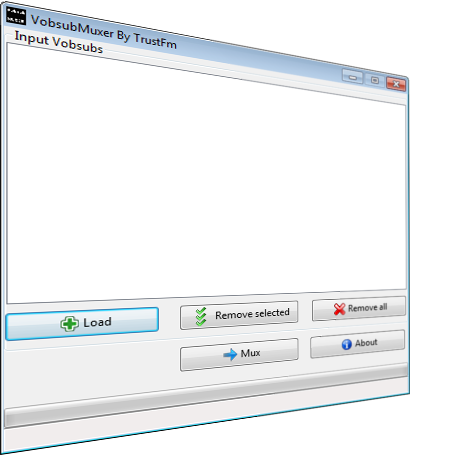 ChangeLog :
What's new in ver.2.0:
Ported : to Lazarus
Added : Status bar
Added : Icons on the buttons
Added : Linux version
Updated : Much nicer GUI

What's new in ver.1.9:
Added : Faster vobsub loading
Added : Up to 99 subtitles support
Added : Mux up to 99 subtitles at once
Added : mkvmerge subtitle vobsub support
Added : Warning if more than 32 subtitles are loaded
Updated : Command line support for more subtitle files
Updated : Faster conversion engine
Updated : Nicer GUI
Updated : About Box, special thanks to Michael Mitzi
Fixed : Indonesian, hebrew and macau languages


What's new in ver.1.5:
Checked : Win7 Compatibility
Fixed : Error Message
Fixed : Download links
Fixed : Paypal donation button
Updated : About Box
Updated : Compilation details
Removed : Update option


What's new in ver.1.4:
Added : ProgressBar
Fixed : Disable Form when converting
Updated : About Box

What's new in ver.1.3:
Added : Command Line support added For more informations take a look at 'How to use' section
Updated : Better output filenames

What's new in ver.1.2:
Fixed : Lowercase filepos timestamps (More compatibility with hardware players like DVP5960)

What's new in ver.1.1:
Added : Multi-language vobsubs supported (generated with VobsubMuxer)
Added : Language Id's

What's new in ver.1.0 :
First public release