Foto2avi supports 5.1 audio. In this small tutorial i will explain how to create your own videos with Dolby surround 5.1 audio effect.
In order to create a 5.1 audio sound you must have 6 MONO WAV audio streams.
You can call them
FL.wav for front left
FR.wav for front right
C.wav for center
SUB.wav for subwoofer
RL.wav for rear left
RR.wav for rear right
A) USING WAV 5.1
Download audacity from
http://audacity.sourceforge.net/
Create your 6 wav (MONO) files that you want to mix in one 5.1 audio stream.
load them with this order : front left - front right - center - subwoofer - rear left - rear right
You will get something like this picture below :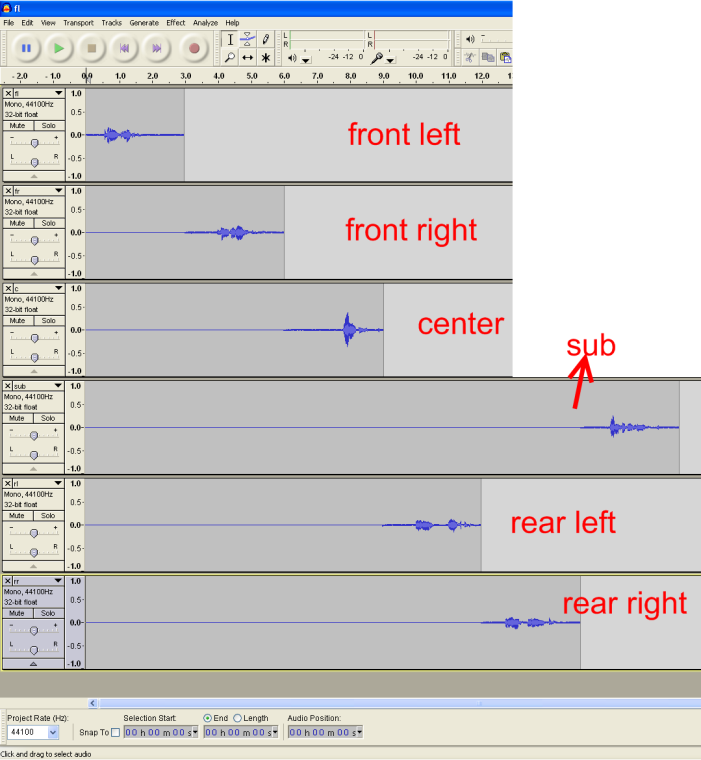 now go to edit - preferences of audacity and check the "use custom mix" see below :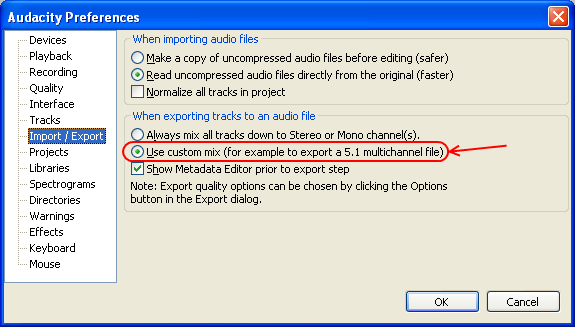 now press file - export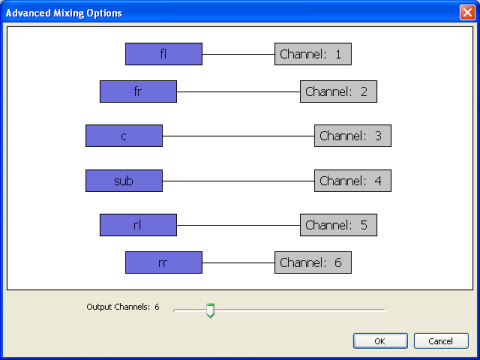 B) USING OGG 5.1
Do the same steps as A and then the final wav you can convert it to ogg using the
oggdropXPd V.1.9.0 using libVorbis v1.3.2
that can be found here :
http://www.rarewares.org/ogg-oggdropxpd.php
. You will get a valid OGG 5.1 file.
C) USING AC3 5.1
Download the freeware WavToAC3Encoder from
http://code.google.com/p/wavtoac3encoder/
now set 48000 to sample rate and then press the MUX Wizard button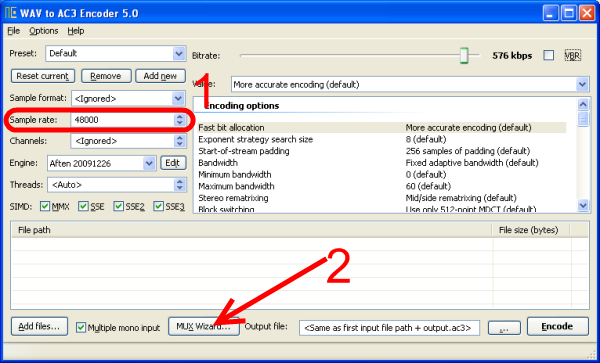 On the next form just select 3/2 from the channel config combobox and check the LFE for enabling the subwoofer
Load your 6 wavs and press OK . Now press encode . You will have a valid ac3 5.1 file.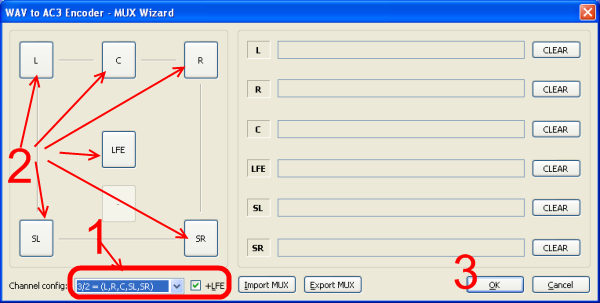 All of these 6 channel sounds can be imported to foto2avi and by selecting from foto2avi settings

file mode : mkv + ac3 ch6 or
file mode : mp4 + ac3 ch6 or
dvd mode : ac3 ch6

you will produce a valid video file with surround sound.
Please notice that ffmpeg has problems with avi container + ac3 5.1 sound right now.
More info about this bug can be found here : http://forum.doom9.org/showthread.php?p=1463294
So right now only mkv and mp4 containers are supported for AC3 5.1 sound. Sorry...